MagicJack is Windows XP/Windows Vista/MacIntosh compatible and attaches to USB Port. A standard analog telephone with an RJ-11 phone jack also attaches to your magicJack. A computer headset/microphone may also be used.
MagicJack provides the following FCC-Approved features:
A phone number from one of many metropolitan areas around the USA that can receive incoming calls from around the world.

A license to use the magicJack to call the US and Canada for FREE during your first year of use. Each additional year is currently $19.95 USD.

A USB optional extension cord.

Free local and long distance calling to US and Canada.

Free International calling to US/Canada numbers when traveling outside of the US.

Free MagicJack to MagicJack calls from country to country
PC Magazine EDITOR'S CHOICE January 2008.

MagicJack is now the fastest growing fixed-line telephone company in the United States, by subscribers per day. About 8000 people are signing up per day.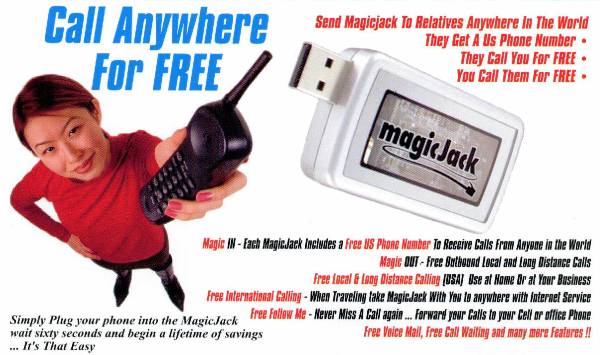 How to find the MagicJack Serial Number
helpful for organizing your MJ units.